"Mighty Micah" Beats Stage IV Cancer! Watch his amazing story!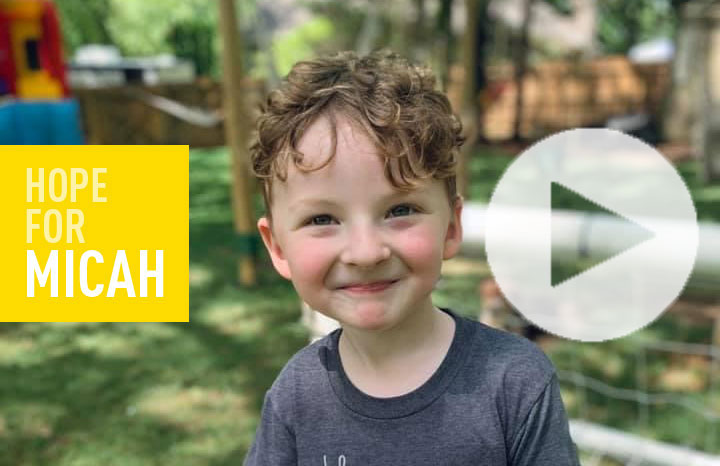 For years now, Believe Big has been spreading the word about integrative therapies for cancer. Every day, we hear more positive outcomes– like six-year-old Micah's.
Micah's oncologist put it best: "This is a first for us. He's doing better than we've ever seen." And your gifts helped make Micah's miracle possible.
Thanks to you, Micah received the integrative therapies that helped him overcome a rare Stage IV cancer called ACC. Overcoming ACC is even more amazing when you realize that most children don't even make it through the harsh treatment, let alone beat the disease.
Now I'm hoping we can count on you again because I have some exciting news.
Believe Big has been offered a $100,000 challenge grant. But, we'll only receive the money if we reach our goal of raising $300,000 by the end of the year.
Can you imagine how much more we could do for our patients with another $100,000? But we'll need everyone's help to get there. That's why I'm asking if you'll become one of our Hope Givers. You can provide vital support by:
Making a one-time donation by December 31st
Becoming one of our Monthly Partners
Becoming a Family or Corporate Partner
Participating in your employer's Matching Gift Program
Sharing Micah's video story with 10 friends via text or email.
You have certainly come through for us before. When the pandemic threatened to halt some of our essential programs, we found new ways to deliver them, thanks to your help. We were even able to offer new services like our virtual support group!
If you're wondering whether your gift will make a difference, look no further than by watching Micah's story (or Mighty Micah, as we call him). Then consider how many more people we could help if we receive that challenge grant.
I thank you for whatever gift you can make and for helping us change the way Americans think about cancer.
Sincerely,
Ivelisse Page
PS: Please consider forwarding this webpage url or texting the video link to TEN people you know.
"Mighty Micah" Beats Stage IV Cancer! Watch his amazing story!