Macadamia Nut Hummus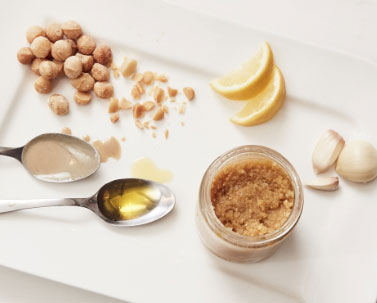 Another version of a low carbohydrate ketogenic hummus. Similar to a Cauliflower Hummus recipe, the high carbohydrate garbanzo beans are replaced with keto friendly ingredients. This version is rich and delicious. You can blend this completely smooth or leave it a little on the crunch side. So easy you can't go wrong!
INGREDIENTS
125 grams (1 cup) macadamia nuts – roasted
30 grams (2 tablespoons) Tahini,100% ground sesame seeds
15 grams (1 tablespoon) extra virgin olive oil
9 grams (2.5 teaspoons) lemon juice
2 grams (1 clove) garlic
salt to taste
DIRECTIONS
1. Grind macadamia nuts in a blender until finely chopped.
2. Add remaining ingredients and blend until desired smoothness is achieved. Refrigerate up to 2 weeks.