Gratitude vs. Stress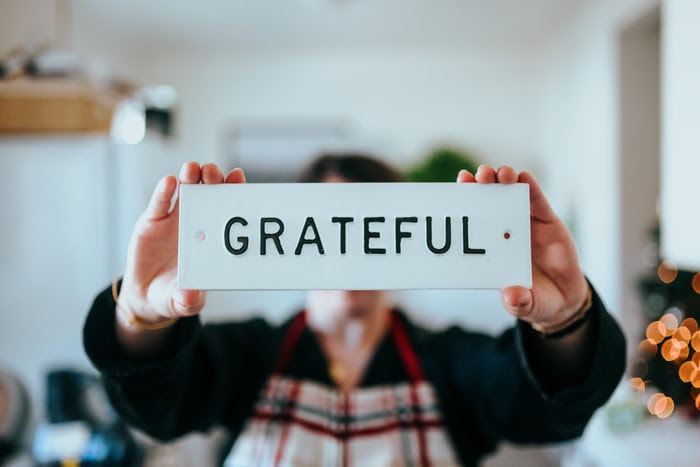 5 Practical Steps to Manage Stress & Your Health During the Holidays
Functional medicine expert, Dr. Jill Carnahan, MD shares that having some stress in life is unavoidable, but there are positive, healthy strategies to help you manage it. And while there's no such thing as a stress-free life, building habits that support you can go a long way in keeping your stress levels in check. Regularly practicing these techniques can prevent stressful times from interfering with your life. Even if you can't rid yourself of the source of your stress, you can learn to manage it and prevent it from affecting your health. Dr. Kelly Turner shares that stress can keep the body in fight or flight mode, instead of rest and repair mode.
What can you do this holiday season to manage stress? How can you make this year different? Here are our favorite tips.
Practice Gratitude – It isn't always possible to change your circumstances, but you can change where you focus your mind, heart, and soul. The words we speak can set the course for your future. Need a tool to help you? Our new Gratitude Journal will encourage you to speak God's promises over your daily life, affirm his blessings, and help you to pray from a place of victory.
Plan Ahead & Set Boundaries – Be intentional with your time. Get adequate consistent sleep by setting an alarm on your phone for the same time each night to turn technology off and get ready for bed. Planning ahead by simply taking the time to write out a daily or weekly to-do list can work wonders for keeping stress at bay. "It's ok to say "no". You are not obligated to accept every invitation, request, or opportunity that comes your way. Especially if you know saying "yes" will make you anxious or doesn't align with how you really want to be spending your time."
Learn New Ways to Relax – We love the NEW One Minute Pause app or learning a new hobby like photography or painting.
Make Time for Exercise – Exercise not only decreases stress hormones but also boosts energy levels and the feel-good chemicals in the brain. You don't have to join a gym. A short, brisk walk outside can do wonders for your mood. There are also several apps you can use at home to help keep you motivated like Sworkit, 7-min workout, or the Peloton app.
Know What You Can (and Can't) Control – For some people, the holidays can trigger stress and anxiety because of past experiences. Many have family members that can be difficult, leaving us with a lot of negative emotions. Set an intention to create a different way of navigating challenging relationships. Acknowledge the triggers and set an intention to approach that person with a positive outlook. Keep conversations light and don't get drawn into their drama or debate. You don't have control over what others say and how they act, but you DO have control over whether you allow others to affect your mood and stress level.
** Photo by Nathan Dumlao @ Unsplash
Grateful to be alive. Message from Ivelisse
This was me during the holidays in 2008. I remember being filled with fear at the thought of not seeing my four kids grow up or growing old with Jimmy. Some people say that God won't give us anything we can't handle, but I believe that He often allows situations that are too much for us to handle – alone. It's in these times that we realize how much we need each other and most importantly, our need for God becomes obvious.
As we reflect on all the things we are thankful for leading up to Thanksgiving, I am sure that your health is at the top of that list. I know for me I am forever grateful to all of you who gave of your time and resources to help my family all those years ago. I know that God spared my life so that I could work for Him. And, to breathe hope into the lives of those I meet who are feeling hopeless. You were that for me and I can't thank you enough.
Will you join me this holiday season to help more children and adults struggling with cancer by helping Believe Big reach our end-of-year goal?
You can help by:
Making a one-time donation by December 31st. You can donate HERE
Becoming one of our Monthly Partners (or increasing your monthly giving)
Becoming an annual Family or Corporate Partner (click here for more information)
Participating in your employer's Matching Gift Program
Sharing MY VIDEO STORY with 10 friends via text or email.
As of this email, we have raised $67,766 of the $400,000 needed.
I thank you in advance for whatever gift you can make!
Have a Happy Thanksgiving,