A LOW CARB THANKSGIVING?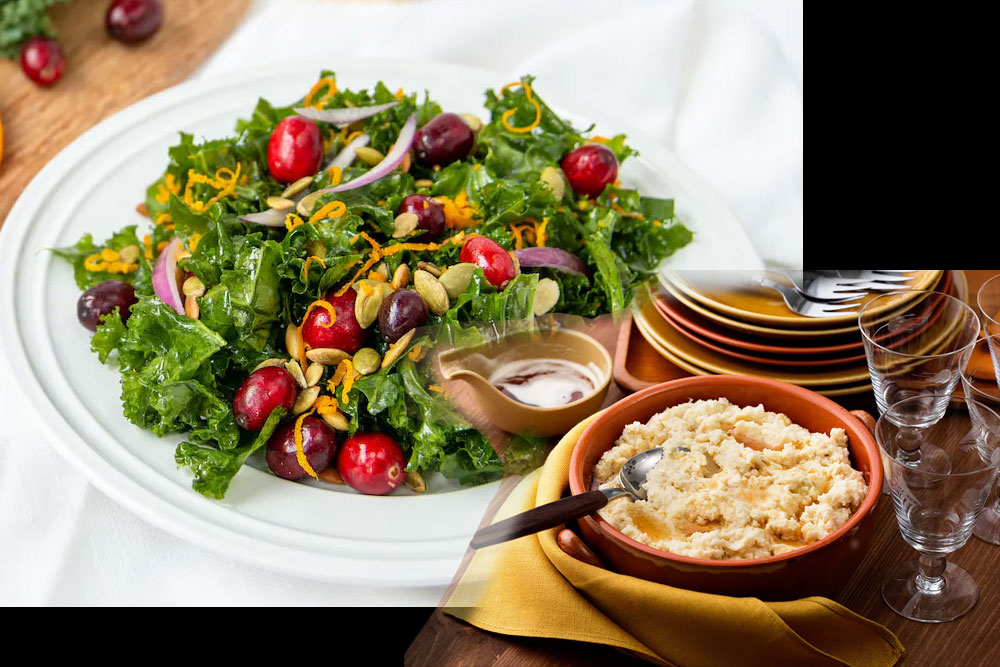 We have heard great things about adding these two options to your thanksgiving this year. Maybe try them out yourself first and then WOW your friends and loved ones. A cranberry kale salad brings some much needed greens to the table and then some low carb cauliflower mash. Save the calories for the dessert 🙂 See if anyone even notices the difference with the 'potatoes'.
Cranberry Kale Salad
Ingredients
2 cups organic kale, chopped
1⁄8 tsp sea salt
3 tbsp organic olive oil
3 tbsp mayonnaise
3 tbsp organic orange juice
1 tbsp orange zest
½ (2 oz.) organic red onion, sliced
1⁄3 cup fresh organic cranberries or pomegranate seeds
1⁄3 oz. (11⁄5 tbsp) pumpkin seeds, roasted and salted
Instructions
Add the kale, salt, and 1/3 of the olive oil to a large bowl. Use your fingers to massage the salt and the oil into the kale. Set aside.
In a small bowl, use a whisk to mix the dressing ingredients; mayonnaise, olive oil, orange juice, and zest until creamy and smooth.
Approximately 5-10 minutes before serving, add the onion, cranberries, and pumpkin seeds to the bowl with the kale and toss with the salad dressing to combine.
Tips
This salad is equally delicious using lemon juice and lemon zest or 1 tablespoon of balsamic vinegar in place of the orange juice and orange zest.
If you prefer, use toasted pecans instead of pumpkin seeds for a deep, harvest flavor.
And if you're not a fan of kale, substitute fresh spinach or other crisp greens.
General tips for luscious raw kale salads
Chop the kale in small bite-sized pieces to make eating the salad easier.
Reserve the tougher rib portions from the kale to stir into a pot of soup or to sauté. Use the outer, softer pieces for the raw salad.
Rub or massage the kale with a small amount of salt or olive oil before dressing. The oil wilts the kale a bit and makes it more tender and removes some of the bitterness as well.
Dress the salad 5-10 minutes before serving to let the flavors permeate the kale.
– – – – – – – – – – – – – – – – – – – – – – – –
Low Carb Cauliflower Mash
Ingredients
2 (8 oz.) organic yellow onions, finely chopped
3 tbsp butter or Ghee, for frying
3 lbs organic cauliflower
1½ cups heavy whipping cream (Cottage cheese alone can be a good substitute for heavy cream)
2½ cups (10 oz.) shredded cheddar cheese, or dairy free cheese alternative
1 tsp sea salt
½ tsp ground black pepper
4 oz. (½ cup) unsalted butter or Ghee, for browning
Instructions
In a large frying pan over medium-high heat, fry the onions in the butter or Ghee, until soft and golden. Set aside in a bowl to cool.
Shred the cauliflower with the coarse side of a grater or divide into smaller florets and chop in a food processor until rice sized. Process a few florets at a time.
Pour heavy whipping cream (or cottage cheese) in a pan. Stir in the cauliflower rice and boil on medium heat. Let simmer for 10–15 minutes or more, until the cauliflower is thoroughly cooked, and the cream has reduced. This will give the mash a more neutral flavor.
Salt and pepper to taste. Add fried onion and shredded cheese. Mix well and keep warm.
Melt butter on medium heat in a skillet until amber-colored for a nice nutty taste. Serve the butter with the mash.
Tip!
You don't have to remove all the leafy parts—use the entire cauliflower head for making mash! Just be sure to take off the outside leaves. You can also use ready-made cauliflower rice from the grocery store, fresh or frozen. Two pounds will be enough.